Vikings Lookout Riverfront Homes
As an exclusive gated community, Vikings Lookout riverfront homes are built on large lots offering deep water boating with no fixed bridge, direct access to  the Atlantic Ocean through St Lucie River. The community of Vikings Lookout is nestled on lush tropical landscaping, mature trees and of course, the view of the grand St Lucie River.
Homes in Vikings Lookout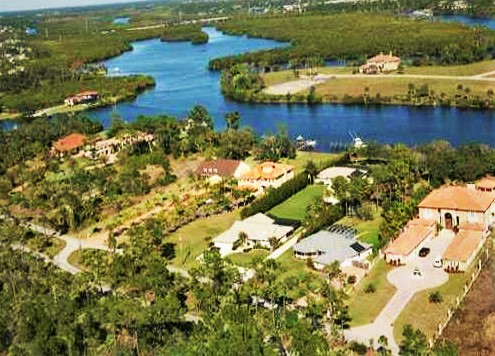 The luxury estate homes in Vikings Lookout are built on oversized lots zoned for an additional structure as the guest house or in-law quarters.  Owning a waterfront single family home with ocean access and no fixed bridges in Vikings Lookout is more affordable than purchasing a home without such wonderful amenities in some other counties.   The prices of these homes vary from below half a million to over a million dollars depending on the location of the home.  The waterfront homes in the Vikings Lookout demand are priced higher than the non-waterfront homes.  The later homes, however, still have ocean access for their boats through the community boat ramp.  The boat ramp is also accessible to their neighbors in Norseman's Harbor townhomes and villas.
Homes for Sale in Vikings Lookout
There are very few homes for sale in Vikings Lookout in the market on any given day, which is primarily due to the limited number of homes constructed in Vikings Lookout.  During 2014 and 2015 there was only a total of  4sold homes in Vikings Lookout.:
661 SE Norseman Drive- A 3 bedrooms, 2 1/2 baths single family pool home with 2650 of under air living area and 5,681 total area.  This property was one of the very few foreclosure homes in Vikings Lookout and sold for $240,100 in November of 2014.  The property did not have a waterfront exposure but could use the community boat ramp in Vikings Lookout complex.

– A magnificent 6 bedrooms, 4 baths estate home with 4,144 square feet under air living

area and 4,825 square feet, 6 bedrooms, 4 baths estate home  total area.  This wonderful home offered boat dockage with direct riverfront ocean access, a 3 car garage, and a private swimming pool.  This property is a great example of waterfront homes sold in Vikings Lookout community, with deepwater dock, a lift capable of handling boats up to 10,000 lbs and direct ocean access with no fixed bridges.  The asking price for this great home in Vikings Lookout was $1,199,00 (down from the original 41,250,000) and sold for $1,100,000 in December of 2014.

2618 SE Erickson Drive– A non-waterfront single-family pool home with 2,843 square feet under air living area and 5,141 square feet total area, 3 bedrooms, 2 baths and 2 car garage.  This property was sold in July of 2015 for $325,000.

2721 2721 SE North Lookout Boulevard-– Another magnificently appointed riverfront estate home boasting 7,218 square feet of under air living area, a whopping 16,389 square feet of total area with 5 bedrooms and 6 baths and 12 car garages.  Yes, 12 car garages and  no it's not a typo!!.  This waterfront home with direct ocean access, dockage, and a boat lift was sold for $1,005,000 in April of 2015.