2015 Sold Home Report St Lucie County
The report on local real estate activities by Realtors®
St Lucie County Real Estate Report Q3, 2015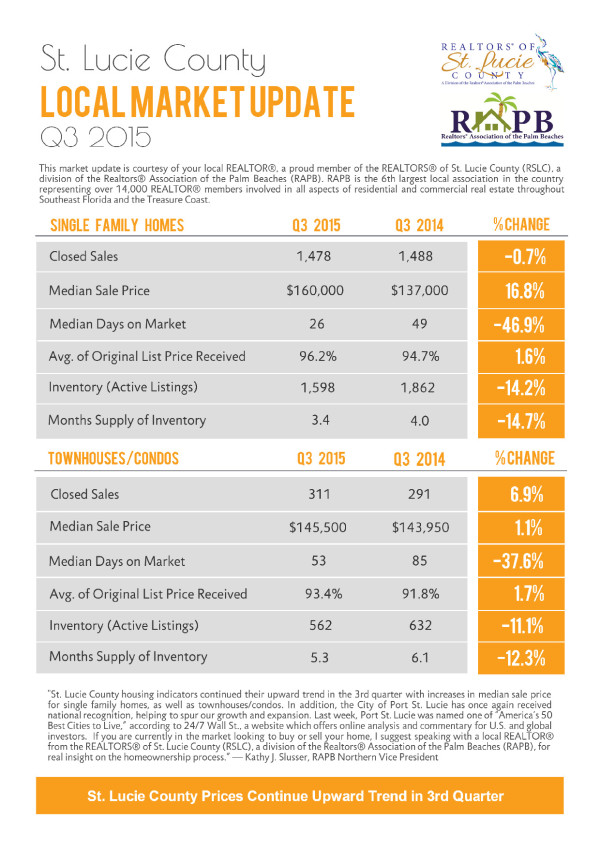 Association of the Palm Beaches (RAPB) shows the continuation of the established trend of rising prices. The most notable changes for single family homes in the St Lucie County real estate are:
Median Price- Rose to $167,000 in the 3rd quarter of 2015 from $137,000 in the same period in 2014, a whopping 16.8% increase in one year.
Average Days on Market- Drop to only 26 days in comparison to 49 days in the 3rd quarter of last year. This is a clear indication of low inventory and high demand, which in turn fuels the rising prices.
Inventory- Considering the shortage of inventory of homes for sale in 2014, the drop of 14.7% in inventory represents an even bigger problem. With home builders struggling to add to the inventory and continuous shortage of inventory the higher prices are inevitable. The problem for surrounding counties is more severe as some like Palm Beach County has reached the boiling point of maxed out prices much earlier in 2014.
Overall the Port St Lucie real estate report for 2015 indicates a stronger seller's market which combined with anxious buyers has resulted in listings ending up in the multiple offer situation.  This is a reminder of how the market went crazy in last decade real estate boom.  Multiple offers, price war, anxious buyers trying to buy before prices increase even higher while sellers holding back in the hope of cashing out even more in tomorrow's market.  Unless the new home construction catches up with the shortage of inventory, the rise in interest rate seems to be the only unfortunate remedy for slowing down the train before the wreckage arrives like it did only a few years back.