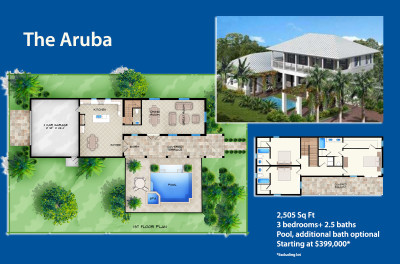 New Homes in Port St Lucie
With the introduction of pre-construction smart homes in Westcliffe Estates at Tradition development in Tradition to the Port St Lucie Real Estate market, buying new homes in Port St Lucie has become smarter than ever.  The so-called smart homes are generally equipped with the latest security-related distance controls through the computer or smart phones.  With a simple app on your cell phone, you can change the thermostat, lock/unlock the doors and monitor inside and outside of the house by installing cameras that connect directly to your phone.  While this technology has been around for a while, the process of developing Zero Energy Home is fairly new and a welcome addition to smart home technologies.
The Zero Energy or Greenergy@ Homes, developed by GE@, promise to eliminate the electricity costs for good.  Just imagine not having a bill from your power company ever and perhaps even getting paid for the overage in electricity produced by your house.  The Zero Energy Home Technology is primarily based on solar energy.  During the daylight, the system is creating more electricity than the usage in your house and the overage put to use during the night time.  The way this works is simple.  Your house is connected to the power company grid as other homes are, but the excess energy produced during the day is transferred to the grid and return to your home during the night.  In most markets the power companies use and pay for the access energy not completely depleted during the night.  This is a wonderful scenario in which not only you do not have to pay for electricity but you will get a check from power company as well.
Westcliffe Estates is a pioneer in bringing Zero Energy Technology to a Planned Unit Community in (PUD) Florida and the US.  The homes in Westcliffe Estates are equipped with the latest Smart Home Technologies as well as solar energy, the Ecomagination@ developed by GE@.  The pre-construction homes for sale in Westcliffe Estates are also built using the latest innovations in pre-construction industry, which results in the development of the most energy efficient homes in the market.  The developer of homes in Westcliffe Estates, Homecrete Homes, also equip each home with the latest appliances by GE@ ranked  as some of the highest energy efficient appliances available in the industry.
For more information on visiting the model homes and available Zero Energy Homes in Westcliffe Estates please contact our experts at:
Phone: (772) 323-6730
Email: info@portstlucie.city
About Author:
Hamid Hakimi is a broker associate with Coldwell Banker Thomas J white Realty in St Lucie West serving Tradition, St Lucie West, Port St Lucie and surrounding area.  He holds bachelor degrees in industrial engineering and business administration and is a former licensed property appraiser.  He was the 2014 speaker for Florida Association of Realtors at their annual convention.  Email him at info@portstlucie.city attention Hamid.