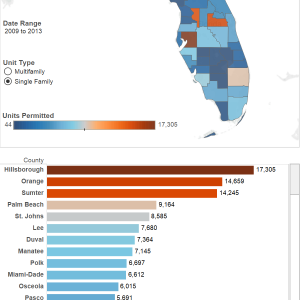 While the construction of new homes in Florida is promising the start of new pre construction opportunities in Port St Lucie, some areas of the state have been experiencing different impacts of this new era of home construction.   Based on the data collected from US Bureau of Census the number of the permits issued for St Lucie County for the construction of single-family homes is 1,651.  Florida Association of realtors has analyzed this data along with an interactive graphics demonstrating the number of residential permits issued for different counties in Florida.  The graphics are extremely user-friendly, just hover the mouse over each county and a data-box will open indicating the number of permits issued for that specific county.
Although the collected data seems reliable but in our opinion, there is some discrepancy between the numbers shown for St Lucie County.  The main reason for our doubt is the number of the new single family homes announced by different developers.  For example, Vitalia at tradition alone has announced a new phase with 1,500 single family homes in addition to the existing new construction homes as well as the remainder of the homes planned to be built under the previous phase.  If we add the 1,500 new units in Vitalia at Tradition to the construction of more homes in other preconstruction communities such as Victoria Parc (GHO Homes), LakePark at Tradition (Minto homes), Westcliffe Estates at Tradition (Greenergy Communities by Homecrete Homes) and the continuation of construction in PGA Village Verano (Kolter Homes).
No matter which stats you want to rely on the fact remains there is an undeniable benefit of buying pre construction homes in any on-the-rise market.  Regardless, if you are an investor or buying a new home as your residence the earlier you enter the purchasing of pre-construction homes in Port St Lucie, there is an increased financial gain.