Annual Highwaymen Festival in Fort Pierce, FL
The Fort Pierce Florida Highwaymen Art Show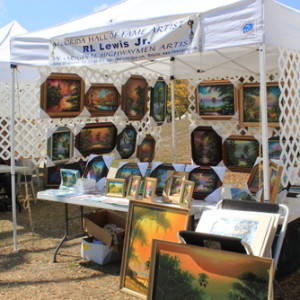 The Florida Highwaymen were a group of 26 artists in the early 1950's thru the 80's that painted artwork of Florida's natural landscape including poinciana trees, ocean, marshes and palm trees using vivid colors from their garages and backyards selling to businesses, hotels and individuals for about $25.00 a piece. Today their artwork is sold for $1,000's of dollars.  The name Highwaymen was associated with the artists who traveled I-95 and A1A to sell their artwork.Annual Highwaymen Festival in Fort Pierce, FL
The next time you are looking for things to do in Port St Lucie check out the annual Fort Pierce art festival for highwaymen artwork.
Known Florida Highway Artists List:
Chris Arnett

Hezekiah Baker

Al Black

Ellis Buckner

George Buckner

Robert Butler

Mary Ann Carroll

Johnny Daniels

Willie Daniels

Rodney Demps

James Gibson

Alfred Hair

Issac Knight

Robert L. Lewis

John Maynor

Roy McLendon

Alfonso Moran

Harold Newton

Lemuel Newton

Sam Newton

Livingston Roberts

Willie Reagan

Cornell Smith

Charles Walker

Sylvester M. Wells

Charles Wheeler
Port St Lucie festivals and nearby city festivals are in abundance all year round.  Check back often for things to do in Port St Lucie.