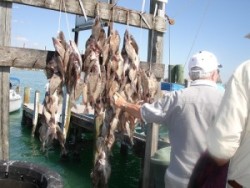 Fishing in Port St Lucie
Whether you are a local looking for things to do in Port St Lucie, on vacation or a snowbird, Port St Lucie fishing areas are some of the best fishing in Florida.  Fishing in Port St Lucie and treasure Coast has its relaxing qualities to spend a morning or evening just hanging out at the waters edge whether you are a fisherman or just a curious onlooker.  There is something about the salty air and outdoors scenery that can draw anyone into the sport whether they like to fish or not.  The time can drift away by day-dreaming, the thrill of the catch or meeting new people who share your passion for sportfishing.  Finding the right Port St Lucie fishing spot is as exciting as the sport itself.  Below are some popular fishing spots as some off the beaten path. 


Jensen Beach Causeway:  Under the Jensen Beach Causeway Bridge located off Indian River Drive you will find a pier and a walkway under the bridge with a scenic view of the Indian River.  There is a playground for the kids and a picnic-like setting for family gatherings.  Fishermen catch a variety of fish and the locals will share their best fishing advice for newcomers.  You will find many local regulars and the Snook Nook bait shop is not too far in case you need the right tackle or equipment.

Little Jim Bridge:  There are two bridges that connect Fort Pierce to Hutchinson Island go to the Eastern side of the bridge.  Fishermen use both live and dead bait to catch Snapper, Snook, and Sheepshead.  The Sheepshead has human-like teeth.  Best to fish when the tide is moving in or out.  Port St Lucie Tide Checker

Fort Pierce Inlet:  Just North of Avenue E in Fort Pierce make a right on A1A also known as Seaway Drive head East until you reach the end.  The fishermen are catching Snapper, Big Snook, Flounder, Pompano, Bluefish, Tarpon and Spanish Mackerel. 
Visit Snook Nook 3553 County Rd 707 Jensen Beach, Florida for Bait and other fishing accessories. If you are only in town for a few days  and looking for things to do in Port St Lucie you can also purchase a license to fish.